Sarah Cowan
Click the Buzz Me button to receive email notifications when Sarah Cowan appears in an article.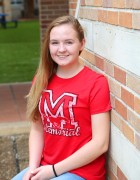 School Buzz Reporter
In seventh grade, I realized I had a passion for one thing: books. I absolutely loved getting lost in the worlds authors had made come alive in my mind, and the more I read, the more appreciation I had for authors that were able to create stories that captivated my attention for hours. At some point along the way, my love for reading turned into a love of writing. The art of conveying an idea or event through words is extremely rewarding and exciting at the same time. Houston has exposed me to many different cultures and experiences I am lucky to have, and I am looking forward to working with School Buzz as I represent Memorial High School for a second year.