Emma Lapin
Click the Buzz Me button to receive email notifications when Emma Lapin appears in an article.
School Buzz Reporter
Writing is a way to express my feelings and ideas. I'm excited for the opportunity to write for School Buzz about all the special qualities my school has to offer. The Buzz has a unique way of bringing our community together by sharing our stories, and community is something that is very important to me. I'm active in a lot of different unique community activities including B'Nai Brith Youth Organization and community service for Bellaire. I have been an Evelyn's Park Ambassador since sixth grade and have been working to raise money to make the park a reality. Emery is a small private school, but we have lots of school spirit, competitive sports, a great sense of community and an amazing theatre program. I look forward to sharing all the special things about my school and community. 
Article Mentions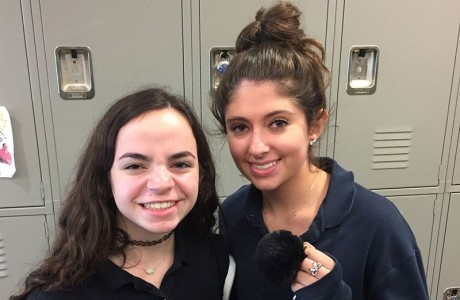 By
Emma Lapin
|
December 1, 2016
By
Jordan Magaziner Steinfeld
|
September 30, 2016
People in this article:
Becca Stetzer
,
Pranay Palvadi
,
Meher Qazilbash
,
Maya Kanani
,
Angela Liu
,
Abbie Seay
,
Mackenzie McAnear
,
Stacey Yard
,
Grace Burgert
,
Eva Van Pelt
,
Paige Clark
,
Benjamin Cohen
,
Will Bazarsky
,
Emma Lapin
,
Sophia Wayne
,
Sara Koch
,
Savanna Lim
,
Mallory Jenkins
,
Cristobella Durrette
,
Sarah Bass
,
Ella Morgan
,
Sara Burpeau
,
Julia Davis
,
Rachel Amran
,
Holly Kurisky
,
Andi Minter
,
Isabelle Nuzzo
,
Sarah Cowan
,
Madeline Muschalik
,
Liana Salehian
,
Deborah Brown
,
Leora Geralnik
,
Celia Houston
,
Reena Kudchadker
,
Celine Lai
,
Natalie Farrell
,
Catherine Gassiot
,
Claire Furse
,
Robert Coghlan IV
,
Trevor Schneider
,
Bayle Goldman
,
Elisa Flores
,
Julia Randolph
By
Annie Blaylock McQueen
|
June 1, 2014