Farewell to the Chief: Honoring Byron Holloway's 45 Years Serving Bellaire
Click the Buzz Me button to receive email notifications when this writer publishes a new article or a new article in this column is published.
"This is not necessarily a celebration of my retirement," said Bellaire Police Chief Byron Holloway. "I know there are people celebrating me leaving," he quipped. 
"This is a celebration of community. This is what makes Bellaire great. This is what makes Bellaire different." 
On Sun., July 25, approximately 200 of Chief Holloway's family, friends, and neighbors gathered at Bellaire City Hall to celebrate his many years of service and dedication to the city. The evening, underwritten by The Buzz Magazines, The '401, Escalante's, and the Rubenstein Family Foundation, benefited the Bellaire Police and Fire Foundation (BPFF), and included entertainment by Beatles and '60s tribute band THE FAB 5, plus light bites, beer, wine, and sangria.
"How do you do justice to a 45-year career?" Mayor Andrew Friedberg posed the question. "What we see before us, Byron, is your friends, neighbors, admirers. We're here to celebrate you and your wonderful career, you and Linda both. Thank you for all that you've done." 
The evening, in addition to toasting Chief Holloway's illustrious career, also raised $15,000 for the Bellaire Police and Fire Foundation, "an organization that's near and dear to his heart and one that, if not for Byron, wouldn't exist," said Ryan Herbst, board president of BPFF.
Herbst was joined by other members of the BPFF board, including Kopi Vogiatzis, Randy Dobbs, Dan R. Collins, and Nick Lanza, to pay tribute to Chief Holloway. Herbst and Vogiatzis brought the idea for the concept, loosely based on the Houston Police Foundation, to Chief Holloway in 2014.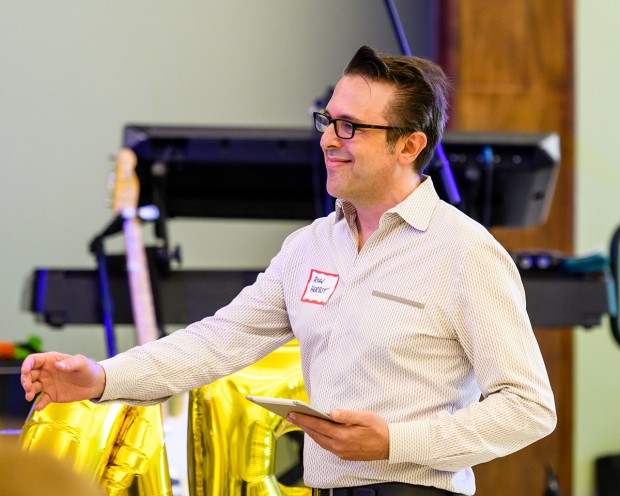 "Risk taking is not at the top of Byron's fun list," Herbst joked. "But he was very supportive." Herbst explained that it was Chief Holloway's idea to include the Bellaire Fire Department. "He thought in a city like Bellaire, it just made sense to extend [the organization] to Fire. His concern and love was for the city and public safety." And so the BPFF was born. 
Since then, the organization has raised over $750,000 to support equipment, technology, and training for the Bellaire police and fire departments. "This organization will continue to be around to support the needs of our police and fire department," Herbst said. "Byron, thank you for your leadership, your love and commitment to this community, and thank you for your friendship. We couldn't have been more privileged to have worked with you."  
In his farewell speech, Chief Holloway emphasized that "there's more to a safe and secure community than the police department." 
"It's important but also a good community has good streets, parks, libraries, government – all of those things that make the city great," he said. "The police department is a part of it but not all of it. I would get a lot of accolades [over the years] and I appreciate it, but the truth is that it's not me. That is the department. That's the men and women of the Bellaire Police Department." 
As far as the Bellaire Police and Fire Foundation, Chief Holloway said that the organization has done an incredible job of understanding what the community needs, including current and future needs. 
"They don't just buy stuff. Yes, we got some cool stuff," said Chief Holloway, gesturing to the front of the building where the high-water rescue vehicles were parked.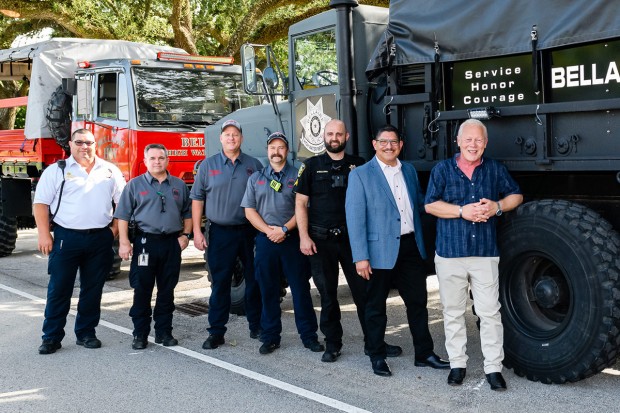 "My personal prayer for the high-water vehicles is that they dry rot before we ever need them," he said. 
In addition to the rescue vehicles, the BPFF has funded programs such as de-escalation training ("they brought that forwarded three years ago before most people even know what de-escalation meant," Chief Holloway remarked); the officer body-camera program; and more public safety focused technology and programs (see more details here.) 
Looking back over his long career and especially the historic events of the last few years, including Hurricane Harvey and the pandemic, "it seems to keep going. So does the city – it keeps going and that's because you have great city employees, great city government, a great community," Chief Holloway said. "We don't always agree and that's a good thing. The good thing about it is we can have conversations, work to understand each other, work to move forward."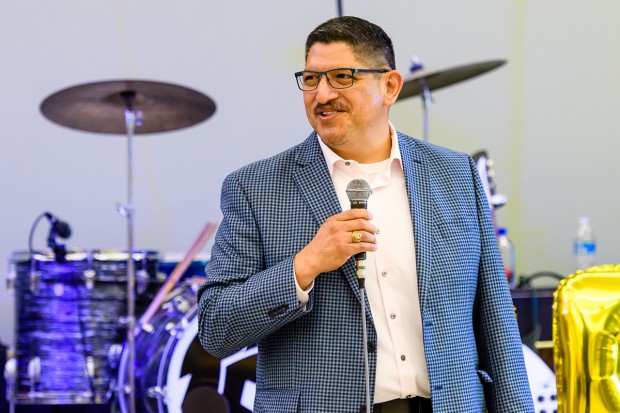 Onesimo "Mo" Lopez, Bellaire's assistant chief of police, will succeed Holloway as Bellaire's chief of police. Lopez will be sworn in Aug. 2. 
"Chief Byron has been a wonderful mentor," said Lopez. "One thing I've learned from him is that it's never about one person. It's not about me. It's not about the department. It's about providing service to this great community, and everything we do should center on that service.
"I think his legacy will be just that – how he's given himself to this community for 45 years. [That is] something I'm going to work to preserve and continue. I don't see myself as being able to replace Byron – he's irreplaceable. I'm going to try to do the best job I can the way he would've done it." 
Chief Holloway said he's excited for Lopez to take the reins. "We're different people but our hearts are basically in the same place," he shared.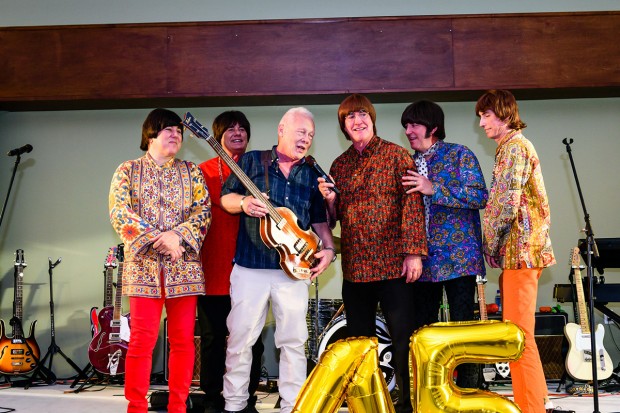 "This is a celebration of community," Chief Holloway reiterated. "This is what makes the community great, and I believe it'll be like that for years to come." 
Chief Holloway, thank you for your 45 years of service to the community and congratulations on your retirement. We wish you, your wife Linda, and your family all the very best in your next chapter of life. 
Editor's note: If you'd like to honor Chief Holloway, consider making a donation to the BPFF.  
People in this article:
Bonnie Lumpkin
,
Terrence Beaman
,
Christie Beaman
,
Pat McLaughlin
,
Cindy Siegel
,
Jay Carr
,
Pattie McGuire
,
Scott Budnik
,
Judy Budnik
,
Kathy Westmoreland
,
Kay Jones
,
Gail Wooten
,
Randy Dobbs
,
Shawn Dobbs
,
Craig Wooten
,
Phil Murray
,
Roberta Murray
,
Theresa Bosley
,
Sherry Noblett
,
Javier Vega
,
Emi Loperena
,
Andres Loperena
,
Anita Morton
,
Tillie Wiedemann
,
Tandy Camberg Harris
,
Karl Miller
,
Creighton Edwards
,
Michael Fife
,
Trisha Pollard
,
Randy Pollard
,
Jessica Wiley
,
Hugh Sintic
,
Jennifer Friedberg
,
Richard Cole
,
Patti Davis
,
Steve Davis
,
Rebecca Phillips
,
Myrna Engler
,
David Engler
,
Byron Holloway
,
Andrew Friedberg
,
Linda Holloway
,
Matthew Holloway
,
Ryan Herbst
,
Kopi Vogiatzis
,
Dan Collins
,
Lilly Gilmer Collins
,
Nick Lanza
,
Mo Lopez
,
Arash Noamouz
,
Kristi Coffey
,
Cheryl Bright
,
Michael Hoffman
,
Joni Hoffman
,
Fabi Lopez
,
Maya Harpavat
,
Ava Yu
,
Albert Figueroa
,
Russell Lacy
,
Edward Dannenbaum
,
Stephen Frank
,
Shane O'Sullivan
,
Todd Blitzer
,
Andy Blitzer
,
Jordan Magaziner Steinfeld
,
Matt Steinfeld
Want more buzz like this? Sign up for our Morning Buzz emails.
To leave a comment, please log in or create an account with The Buzz Magazines, Disqus, Facebook, Twitter or Google+. Or you may post as a guest.