Buzz Articles by the Numbers: Top 20 Articles of the Year
Click the Buzz Me button to receive email notifications when this writer publishes a new article or a new article in this column is published.
As always, we take time before the new year begins to look back at the past year and think ahead to the next. In honor of 2020, we decided to share the top 20 stories of 2019. The below list of Buzz articles is by the numbers from Google Analytics. 
20. Welcome to Page Turners: Best Books of 2019 (so far) by Cindy Burnett
This year, we welcomed Cindy Burnett to The Buzz with her weekly, online column, "Page Turners," where she shares book recommendations, author interviews and more. See all of her articles here, including her top picks of the year.  
See all the winners of our annual Photo Contest here. Congratulations again to our Grand Prize Winner, Claire Zurek, who took the photo "And the ump says...." If you're an amateur photographer and want to enter the 2020 Photo Contest, look out for next year's call for entries on our website, social media and in the March 2020 print issue.
18. Astros Sign Lady is Unstoppable by Pooja Salhotra
Barbara Moon goes far to show her support for the Astros. 
17. Class of 2019: Where are they headed? by Jordan Magaziner Steinfeld
Our "Where are they headed" story featuring graduating high school seniors is always a popular one. If you're graduating this year and want to participate in the article, fill out this survey here once you know where you're headed (the deadline is April 20, 2020) and input your information in our directory here.  
16. Enough Lives: Berry family fights distracted driving by Andria Frankfort   
In May 2017, Andria Frankfort wrote about how the Berry family are working to fight against distracted driving. Read the story here. Also, read this incredible update on the Berry family from November 2019 here.
15. Boling Brothers Earn Straight As: Academic and Athletic Awards by Karen Vine Fuller  
Twins Michael and Matthew Boling, 2019 graduates of Strake Jesuit College Preparatory, made headlines for their achievements in both the academic and sports worlds. 
14. My Quarter Life Crisis: Leaving Harvard Law School for Home by Pooja Salhotra  
Pooja Salhotra shares what led her to make the decision to leave Harvard Law School and pursue a different path. 
13. Buzzing about Murals: Montrose Edition by Karina Arnold, Jordan Miller-Mandel and Sophia Wayne  
Buzz 2018 summer interns teamed up to explore colorful murals in the Montrose area.  
12. Houston's Holocaust Survivors: And the museum that shares their stories by Russell Weil
Writer Russell Weil, who's also a docent at Holocaust Museum Houston, shares the stories of local Holocaust survivors.  
11. An Early Thanksgiving for the Nathans: Mandy Receives a New Heart by Pooja Salhotra 
After spending 151 days on the heart transplant list, Mandy Nathan received a new heart from an anonymous donor on Sunday, Nov. 10. Read more here and read about her perspective while awaiting the heart transplant – also one of our top articles of the year – here.
10. College Acceptances at Awty by Vivian Wu 
Last May, Awty student Vivian Wu interviewed several graduating seniors about their college decisions and their time at Awty for our School Buzz blog. 
9. Intervening on Addiction by Cheryl Ursin  
Cheryl Ursin tells the story of Max Flinn's journey from battling addiction to making it as a musician. 
8. Teenagers Can Make a Difference: Volunteer Opportunities for Teens in Houston by Jack Avedesian
Former Buzz intern Jack Avedesian, a graduate of Emery/Weiner, listed volunteer opportunities for teens in Houston. 
7. Bellaire High School Spanish Teacher Turned Viral Dancing Star by Olivia Baba
Bellaire High School student Olivia Baba shared this Q&A with BHS teacher Dr. Trevor Boffone for our School Buzz blog. Dr. Boffone teaches Spanish and went viral for sharing fun dance routines on social media.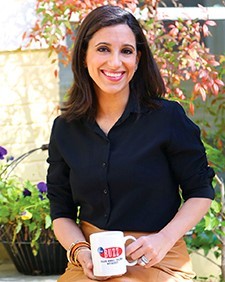 6. Sunday Mornings with Rania: The Wobbly-Wheel Scam by Rania Mankarious
Rania Mankarious, executive director of Crime Stoppers of Houston, explains the "wobbly-wheel" scam in which a "Good Samaritan" tells you to pull over because you have a wobbly tire. They offer help and ultimately demand cash.
5. A Guide on What to Do with Out-of-Towners Visiting Houston by Benjamin Cohen
Former Buzz intern Benjamin Cohen created a guide for what to do with out-of-towners when they visit Houston in summer 2018. Bookmark this list for the next time you have out-of-town visitors. 
4. Sunday Mornings with Rania: Most Dangerous Apps 101 by Rania Mankarious
Rania Mankarious lists the most dangerous apps for kids and teens and what parents need to know.
3. Sunday Mornings with Rania: Bianca Devins' Murder Uncovers Teens' New World by Rania Mankarious 
This summer, Rania Mankarious, executive director of Crime Stoppers of Houston, explored the tragic case of Bianca Devins – a teen Instagram personality who was stalked and killed – and defined online terms for parents. See all Sunday Mornings with Rania articles here.
2. Restaurant Memories: A look back at Houston's dining past by Russell Weil  
Like last year, one of our most-read online articles of 2019 was actually published in Nov. 2014. This nostalgic article on restaurant memories continues to be one of our most popular stories to date and we regularly receive comments on it from readers sharing their own restaurant memories. If you haven't yet read this article it's worth the read. Also, see More Restaurant Memories: Stories from Houston's dining past and Galveston Restaurant Memories: Island favorites from the past for more on this topic by Russell Weil. Share your own restaurant memories by commenting below or emailing [email protected]. 
1. Six Schools, One Voice :The Memorial Cluster Concert by Sophie Czelusta 
Sophie Czelusta from Memorial High School wrote about the Cluster concert for our School Buzz blog in which students from multiple schools, including Memorial, Spring Branch Middle and Memorial Middle, performed on one stage. 
Most-Read Buzz Pages
The above list includes Buzz articles. Some of our top-viewed pages this year include: the 2019 Pet of the Year Contest (voting is open through midnight, Dec. 31), events calendar, School Buzz blog, Magazine section, Morning Buzz e-newsletter sign-up page and Buzzworthy blog. 
Take a look back at the most-viewed articles of 2018, 2017, 2016 and 2015.
Share your favorite stories of 2019 with us by commenting below or emailing [email protected]. Plus, let us know – what would you like to see more of in 2020? 
Happy New Year! Cheers to 2020! 
People in this article:
Cindy Burnett
,
Claire Zurek
,
Pooja Salhotra
,
Barbara Moon
,
Jordan Magaziner Steinfeld
,
Andria Frankfort Dilling
,
Karen Vine Fuller
,
Michael Boling
,
Matthew Boling
,
Karina Arnold
,
Jordan Miller-Mandel
,
Sophia Wayne
,
Russell Weil
,
Mandy Nathan
,
Cheryl Ursin
,
Max Flinn
,
Jack Avedesian
,
Olivia Baba
,
Trevor Boffone
,
Rania Mankarious
,
Benjamin Cohen
,
Bianca Devins
,
Sophie Czelusta
Want more buzz like this? Sign up for our Morning Buzz emails.
To leave a comment, please log in or create an account with The Buzz Magazines, Disqus, Facebook, Twitter or Google+. Or you may post as a guest.